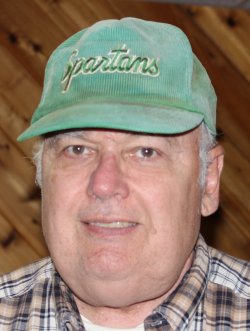 Author Larry Buege
Larry Buege was born (1946) in Sparta, Michigan. After two years at Grand Rapids Junior College, he was drafted and served eleven months in Vietnam as a medic with the 4th Infantry Division. Upon returning home, he earned a B.S. (chemistry) and a B.A. (psychology) from Michigan State University. He taught chemistry and physics for two years before returning to school to become a physician assistant.
He worked fifteen years in a maximum security prison as a physician assistant, one year in an inpatient psychiatric ward, and ten years in a small hospital emergency room.
In 1999 doctors discovered cancer on his vocal cord. Not knowing if he would ever speak again, he took to writing in hopes of earning a living. He was able to salvage most of his voice, but in the process he became addicted to writing. In addition to his seven novels, he has had numerous short stories and Native American articles published in national and international magazines. He now resides with his wife along the southern shore of Lake Superior.
Novels by Larry Buege
Middle-Grade Fiction
Buy Paperback
Book #1 in the Chogan Native American Series.
It is 100 years B.C. (Before Columbus), and life is good for twelve-year-old Chogan and his ten-year-old sister until a Grizzly Bear terrorizes their Indian village along the southern shore of Lake Superior. The bear crushes wigwams with its massive weight and destroys precious strips of meat women had hung on racks to dry. Despite the danger, life must go on if Chogan and his family are to survive. Chogan and his sister venture into the forest of virgin white pine to check their snares and discover an orphaned wolf pup. The bear has killed the wolf pup's mother, and has left the pup to die. Chogan adopts the young wolf knowing he must return the wolf to the wild at the end of the summer. Under Chogan's care, the wolf pup survives and grows to adulthood. The time comes when Chogan and the wolf must part and go their separate ways. The wolf quickly adapts to the wild but never forgets his friend. Chogan had saved the pup's life, and fate will soon provide the wolf with a chance to return the favor.

Middle-Grade Fiction
Book #2 in the Chogan Native American Series.
Life along the southern shore of Lake Superior would be pleasant, if not for the village bully, and every Indian village had one. Unfortunately, twelve-year-old Chogan and his ten-year-old sister Kanti have the misfortune of residing in a village with two bullies. But size isn't everything, and Chogan and Kanti's devious tactics usually gets the best of Ahanu and Tarragon. That all changes when Kanti unwittingly bets her prized spear against Ahanu's bear-claw necklace. If Kanti is to win the wager and reclaim her spear, she will need the assistance of Mishosha (the Magician of the Lake) and Gitche Migizi (an eagle so large men can ride on its back).
Life becomes even more difficult when Chogan and Kanti come face-to-face with the Windigo—a stretch of river so treacherous villagers named it after a mythical beast that devours human flesh. During a full moon the wailing of a thousand souls can be heard within Windigo's mournful roar. If Chogan and Kanti are not careful, their voices will be added to that number.

Middle-Grade Fiction
Book #3 in the Chogan Native American Series.
Life is peaceful for twelve-year-old Chogan and his ten-year-old sister, Kanti, until Sioux warriors with hideously painted faces attack their village along the southern shore of Gitche Gumee. The raiders burn wigwams and overturn meat drying racks, and then escape by canoe—all except for one warrior who retreats into the woods with an arrow embedded in his thigh. Search parties find no trace of the missing warrior. While checking his snares, Chogan stumbles upon the missing warrior only to discover the warrior is Takoda—a mere boy no older than Chogan.
With Kanti's help Chogan removes the arrow from Takoda's thigh, saving his life. Now Chogan and Kanti must conceal Takoda's presence from the angry villagers who seek revenge. To complicate Chogan's already complicated life, a traveling Winnebago merchant discovers the returning Sioux warriors have lied to their people. They claim they were victims of an Ojibway ambush, and that the Ojibway captured and tortured Takoda. Takoda's grandfather, who is chief of the Sioux, is now preparing to avenge his grandson's death.
If Chogan and Kanti are to prevent certain war between two mighty Indian nations, they must deliver Takoda to his grandfather. They must paddle half way across Gitche Gumee in the dead of night while evading Sioux and Ojibway scouts (both of whom might kill them if captured) and then return Takoda to his grandfather. Their only assistance comes from the Gitche Manitou who provides a brilliant display of Northern Lights (waasanoode) to guide their way.

Political Satire
An Amorous Spotted Slug's Yooper War Prophecy.
(Investigated by Homeland Security on Jan.2, 2012)
I've already had a couple of LOL moments ~ George H. W. Bush
Times were good for the man in the Oval Office until three student radicals from Finlandia University and one resident nerd from Michigan Tech seek his support in making Michigan's Upper Peninsula the fifty-first state. They give the President an ultimatum to support their cause or the Yoopers (as the U.P. residents refer to themselves) will throw the coming election. When the President refuses, they hijack a truckload of his turkeys from the Western White House. The truck driver is stripped naked, drenched in molasses, and covered with feathers. The newspapers have a field day at the President's expense, while the truck driver makes the talk-show rounds. To make matters worse, the White House plumbing becomes constipated and refuses to function, twelve hundred and twenty-four of the abducted turkeys find their way to the White House lawn tripping numerous security sensors, and Washington D.C. becomes infested with Amorous Spotted Slugs. Still the President refuses to capitulate. (Pharaoh needed ten plagues.) The final straw occurs when the President receives irrefutable evidence from the CIA that Finland has Weapons of Mass Destruction and intends to turn the Upper Peninsula into a Finnish colony. He is left with no alternative—he must declare war on the U.P.!

Love Story
An Inspirational Love Story (Not a Romance)
After five years at Marquette Branch Prison, Eric Kampe is finally returning home to Cade County where he hopes to resume his life and put his past behind him. But he soon discovers the good citizens of Cade County are unwilling to incorporate a convicted rapist into their community. They adhere to the conservative rural values of Michigan's Upper Peninsula, which does not include coddling sex offenders. A firebombing of Eric's house ten days after his prison release dispels any doubts about his popularity.
Levi Stone, the county sheriff, offers the full protection of his staff…at least he does until he discovers the body of an undercover FBI narcotics agent in an abandoned car. The circumstantial evidence at the crime scene implicates Eric Kampe; and with no friends or alibi, he immediately becomes a person of interest. He is shunned by the community. More aggressive members of the county organize to run him out of town. Only a stray dog named Tiger and a five-year-old girl named Rory are willing to befriend him. He is unaware the young girl is Sara Higgins' daughter, the product of the rape that sent him to prison. Until that brutal rape, Eric and Sara had been lovers. They had planned to marry. Now, all Eric can think about is getting even.
That is only one of Sara's problems. Someone has decided Sara and her daughter must die. She cannot go to the police without revealing the truth about the rape. That would send her to prison, and she could lose her daughter. Erick Kampe is the only person who can help her, but he is obsessed with killing her.
Miracle in Cade County explores the emotional limits of love and hate. At the end of the day, love proves to be the stronger emotion. Unlike novels written for men, this is not about saving the world, but about saving relationships. Miracle in Cade County is a character driven literary novel with considerable inner reflection by all participants while still maintaining a strong plot.

Techno-Thriller
An International Techno-Thriller
Lamar Kaufmann is one of the world's wealthiest men, having made his fortune trafficking weapons to the highest bidders in the third world. He now has everything money can buy—except a child to carry on his criminal dynasty.  An indiscretion in his youth has left him sterile. But money buys power; and with power, he can purchase the best son the world has to offer.
Anastasia Petrova is a twenty-three-year-old Russian scientist who is fluent in five languages and preeminent in her chosen field of nuclear genetics. She is also well versed in the arts and could play first-chair violin in any of Europe's most prestigious symphony orchestras.  Her I.Q. is too high to measure, and that is precisely what Kaufmann desires—a genome capable of producing the most perfect child. Kaufmann abducts Petrova from the shores of the Black Sea and confines her to his luxury yacht that never comes to shore.  She is artificially inseminated with sperm from a donor who, likewise, has a preternaturally high I. Q.  A genetically crafted masterpiece begins its biological journey toward life.  Kaufmann will soon have the son he needs to continue his criminal dynasty.  But Petrova vows this will never happen. To thwart Kaufmann's scheme and claim her son, Petrova must match her wits against Lamar Kaufmann's vast financial empire—and she must do it alone.

Historical
A Novelized Civil War Story
On August 30th, 1862 twenty-four year old William Goodman left his wife and three small children to join the 5th Michigan Cavalry. He participated in numerous conflicts under the leadership of George Armstrong Custer including the battles at Hanover, Gettysburg, and Monterey Pass. On October 11, 1863, he was captured near an obscure town on the James River and died nine months later at Andersonville Prison. Those battles as well as the depredations at Andersonville Prison are well documented. What lacks documentation are Goodman's emotions and inner most thoughts.
William Goodman—Civil War Horesoldier is a work of non-fiction in that weaponry, geography and individual troop movements are meticulously adhered to and provide an accurate historical account.
It is also a work of fiction in that the novel fleshes out the participants and reminds the reader that these were real people whose endurance and resolve were pressed to the ultimate limits. The dialogue is sprinkled with humor, which may seem out of place, but it is the author's experience as a medic with the 4th Inf. Div. in Vietnam that humor is often all that maintains one's sanity during the stress of combat. New estimates now place the cost of the Civil War in terms of human life at three quarters of a million people. After observing the death toll at Gettysburg, Robert E. Lee was moved to tears and postulated that "It is wise that war is so terrible—lest we should grow too fond of it."

Humorous Novel
A Humorous Look at Life in Michigan's U. P.
The town of Bear Creek in Michigan's Upper Peninsula is best described as a cross between The Little House on the Prairie's Walnut Grove and Garrison Keilor's Lake Woebegone. The year is 1923 and prohibition is in full swing. The Ladies' Aid Society from the local Methodist Church is the town's self-proclaimed moral conscience and vows to close down the Snake Pit Saloon, which they believe is providing men with liquor. (No women are allowed inside, thank you.) They are also obsessed with Polly, Molly, and Dolly, collectively known as the "Ollies." Since they have no last names or visible means of support, the women assume they are "soiled doves."
The Bear Creek Economics Club, consisting of the more influential men of town, meets every morning at Mel Barker's Hardware and Feed Store, where they plan strategies to protect their assets, e.g. moonshine and the Ollies, from their meddling wives. In their spare time, they organize MACHO nights (Men Advocating Completely Hedonic Outings) in which they play poker and drink moonshine while hiding from their spouses.
In the midst of this rural paradise arrives a quixotic Methodist pastor. The Rev. Rudy Hooper had been apprehensive about his appointment to the Bare Creek Methodist Church, feeling it might have been a vindictive appointment in revenge for Rudy's disparaging comments concerning the character of the Bishop's wife. He had expected a run-down parsonage in some God forsaken land filled with tsetse flies and cannibals, not an idyllic community such as Bear Creek. But the Bishop had failed to mention that the previous three pastors were now weaving baskets in downstate sanitariums. Nor did the bishop warn Rudy about the obsessive-compulsive beaver that came with the parsonage. He assumed Rudy would discover this soon enough.